YOUTH SING AT WORSHIP ON MOTHER'S DAY, MAY 14th
EVERYONE IS ENCOURAGED TO ATTEND! Last Day of Sunday School
Special Event!
MAY 14th (after worship)
Fellowship Hall
Our youth are currently learning about "Wandering in the Wilderness" and on our last day before summer break they would like to share with the story of Moses with everyone.
Everyone will gather in the fellowship hall and grab some coffee, a muffin, and some fruit before watching The Prince of Peace together.
[Please note the movie is about an hour and 15 minutes.]
{Those not wishing to watch the movie are welcome to stop in and get some coffee, a muffin, and fruit and go to the courtyard for fellowship.}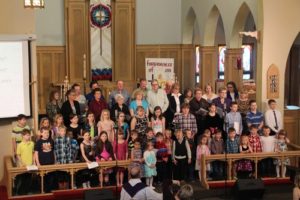 Children's' Choir and Adult Choir Performing Palm Sunday