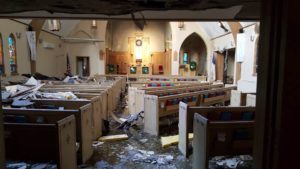 First Lutheran Church Fire Recovery Fund
On Friday, Sept. 1, First Lutheran Church of Bottineau sustained damage due to the roof of the sanctuary catching fire. The congregation is now in recovery mode. Significant damage was done to the sanctuary and main fellowship hall, with other areas of the building affected as well – the courtyard, lower level bathrooms, and entry area. During the time since the fire, many people have been asking what can be done to help. Here are some… answers to that question:
First, continued prayers are requested –prayers of thanks for those who worked to
put the fire out, prayers for comfort and peace to be with all in our congregation and community whom are experiencing a sense of loss and mourning, and prayers for God's guidance and direction as we continue our mission and ministry through the recovery and rebuilding.
Second, there are those who are wondering about opportunities to volunteer for recovery and rebuilding. At this time, there is not a need for this generous offer, but there may be opportunities in the future. First Lutheran Church's Pastoral and Lay leadership will, when the time comes, put out the call for volunteers.
Lastly, the council of First Lutheran Church has established a Recovery Fund for those wanting to give financially to support the recovery effort. For those who would like to contribute, make your donation out to the FLC Recovery Fund.
Our mailing address is:
First Lutheran Church
ATTN: Recovery Fund/Steve Gorder
514 Thompson Street
Bottineau, ND 58318
Contributions can also be made online via our website: www.bottineauflc.org. Click on "giving," then click on "sign-in," – note you do not have to create an profile in order to contribute. On the sign in page you will see the giving form, fill in the amount and select "fire recovery fund" as the receiving account, fill in your payment information and click submit.
Thank you to everyone for your support, kindness, and generosity.
First Lutheran Church of BottineauFirst Lutheran Church